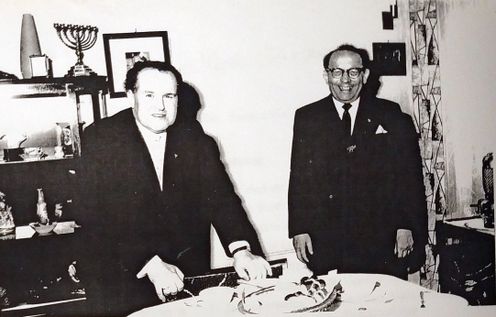 It is Chanukka, the festival of lights and miracles. That's why we want to tell the story of Mordka Schwarz, a Holocaust survivor from the region of Kolbuszowa (PL) who first came to Zittau as a Jewish forced labourer.
After the liberation of the "Zittwerke" (a subcamp of Gross-Rosen concentration camp) and some very difficult postwar years, Mordka started his own business and married Maria "Mirel" Liebe from Löbau. The couple ran the department store "Kaufhaus Schwarz".
For at least 10 years, they sent Chanukka presents to the children of the Jewish community in Dresden. For Mordka Schwarz, who had lost his first wife and children in the Shoa, these Jewish children in Dresden must have represented nothing less than a miracle.
Photo: Mordka Schwarz (right) with Helmut Aris of the Jewish community Dresden. © Archiv der Jüdischen Gemeinde zu Dresden